Why we care about B2B marketing: A guide for marketers
The B2B buyer journey is evolving rapidly as it becomes more digitized, less predictable, and more complex. The challenge for B2B marketers is to support what is now largely a self-guided journey involving numerous personas on accounts and increasingly expanding buying teams. Strategies that were once traditionally B2C are now being adopted by B2B marketers.
As companies speed up the adoption of digital processes and technologies, it is likely you will soon be interacting with increasingly tech-savvy customers. As a result, you can no longer appeal to buyers using traditional tools. Marketers need a more analytical and innovative approach to selling.
This article will walk you through various marketing strategies to help you reach your target business audiences and tell you about a few of the latest trends in the industry. Key points covered include:
Types of B2B marketing
There are many different B2B marketing strategies. While companies tend to focus on B2B marketing channels that produce more leads, it may make sense to prioritize the ones that produce the highest ROI for your company. The following section lists a number of strategies that you can mold and adapt to suit your specific needs and target audience.
Email marketing
Email marketing has long been the mainstay of B2B e-commerce. It is a cost-effective and efficient way to reach potential clients and, as a rule of thumb, has the highest return on investment (ROI) in B2B marketing. It is this simplicity and high ROI that makes email marketing the cornerstone of any marketing operation. According to a study by Litmus, four out of five marketers find email marketing more essential to their operations than social media marketing.
As for B2B marketing, email marketing should be used in conjunction with other useful strategies like account-based marketing (ABM). ABM involves triaging potential accounts and optimizing your marketing strategy to target the accounts that are likely to be most valuable.
Ultimately, you need to remember that the most important element is to personalize the content for your audience. The more your clients feel valued, the more likely they are to use your services and keep coming back for more. Prioritize quality over quantity.
Everything you need to know about email marketing deliverability that your customers want and that inboxes won't block. Get MarTech's Email Marketing Periodic Table.
Content marketing
Remember that your content marketing isn't restricted to written blogs; you should also focus on publishing e-books, white papers, images, infographics, GIFs, podcasts, and videos that you can share to engage and retain your audience. Webinars are not only an important part of a B2B content strategy, but excerpts can be re-utilized on websites and landing pages.
Social media marketing
Most successful businesses today have an online presence on at least one of the top social media websites. In the B2B marketing space, LinkedIn and Facebook are the most commonly used social media platforms, according to survey data from Databox.
Typically, firms use these platforms to achieve the same goals they seek to achieve through other forms of digital marketing — high engagement and advertising. However, to be successful on social media, B2B companies need to find a middle ground between creating engaging content and ensuring they don't ruin their audience's experience on the platform. To do this, marketers should identify the kind of content their target audience wants to see on social media platforms.
While developing and posting social media content, firms need to consider what their buyers' collectives are after. Buyers' collectives are groups of important stakeholders whose approval is mandatory if the company is to make any business purchases. They are an important audience that should not be overlooked while planning your social media marketing strategy.
Your social media content should also project values that align with the concerns of the buyers' collectives of your target firms. Create content that is relevant to their needs and speaks the language of their industries.
You should also track your competitor's social media marketing strategies and measure their success. However, while keeping tabs on your competitors is crucial, it doesn't mean a parting of ways with original content. In order to catch buyers' attention, your social media content needs to offer them something they haven't seen before.
New features are making marketing automation platforms more powerful than ever. Learn about trends and capabilities of marketing automation software in the latest edition of this MarTech Intelligence Report.
Most professionals believe that having a good content strategy is a major key to their success.
This fact is reinforced by a study by the Content Marketing Institute, which points out that an excellent content strategy if paired with good SEO practices, generates three times more leads than an investment in sponsored links.
There is no point in establishing a strategy if you don't map out your results and don't count on efficient planning. After all, you need to rely on pre-defined performance metrics and collect data that indicates the efficiency of the approach.
You can determine your most relevant metrics according to the characteristics of your company and your objectives in the market. But if you're wondering about the most used indicators to evaluate a content strategy, the answer is Total Sales, according to HubSpot research.
10 Proven Content Formats That Work for B2B Brands
When we think of content, we're often inadvertently drawn towards blog posts as the go-to format, but we've seen a real shift towards a wider use of different types of content in recent years. We'll explore 10 proven content formats that are perfect for B2B brands to use as part of their B2B content marketing strategy. But tread carefully to avoid the trap of working format-first.
When you work format-first in content marketing, you'll often find that you limit your creativity. Rather, take a story-first approach and begin by asking yourself what you want to communicate to your audience, and only then consider what the most effective way to do that is.
Blog Posts
Blog posts form the backbone of the majority of content marketing strategies, and that's definitely the case for B2B brands. Marketers who prioritize business blogging efforts are 13x more likely to see positive ROI, and this is down to the fact that blogging: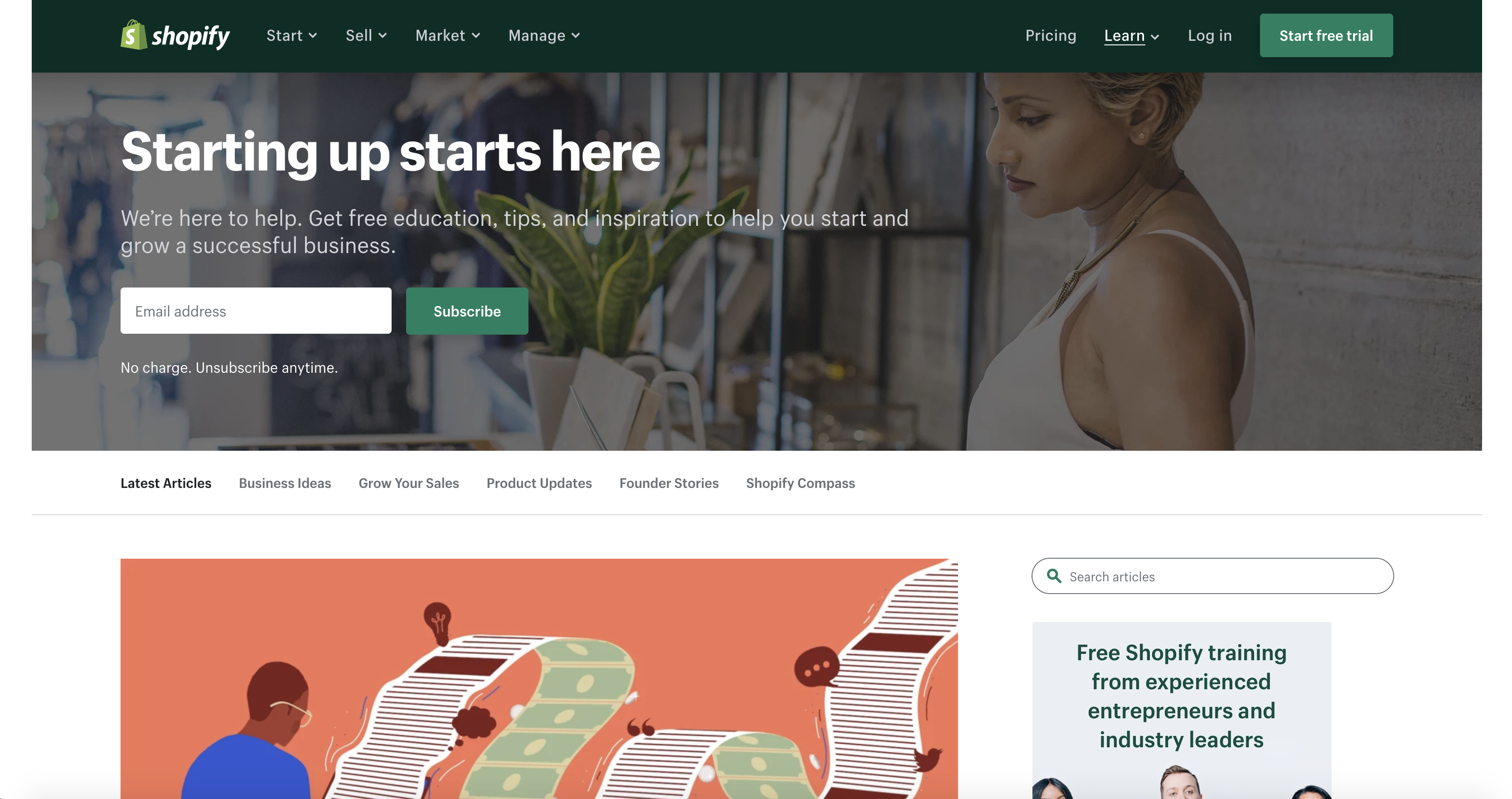 Too often, we think of a blog as being the news section on a website where posts are published in chronological order. But if you want to drive growth, you should move away from this mentality and see it as so much more. And Siege Media's post on " Why Your Blog is Set Up Incorrectly for SEO" is a good read for more information.
This philosophy often ends up in blogs that are created without much thought. Content is created and is never seen. The blog ends up as a graveyard, and as a graveyard that never drove value for the core business.
Your blog should be seen as so much more than a place to publish content. It should be seen as an opportunity to position yourself as industry experts, own SERPs for core topics relating to your business, and drive an increase in organic traffic.
Original Research Studies
If you want to truly stand out with your content against your competitors, you'll need to go above and beyond what they're doing. One of the best ways that you can do this is by publishing original research studies. Conducting your own research and publishing the findings is so powerful in B2B for two main reasons: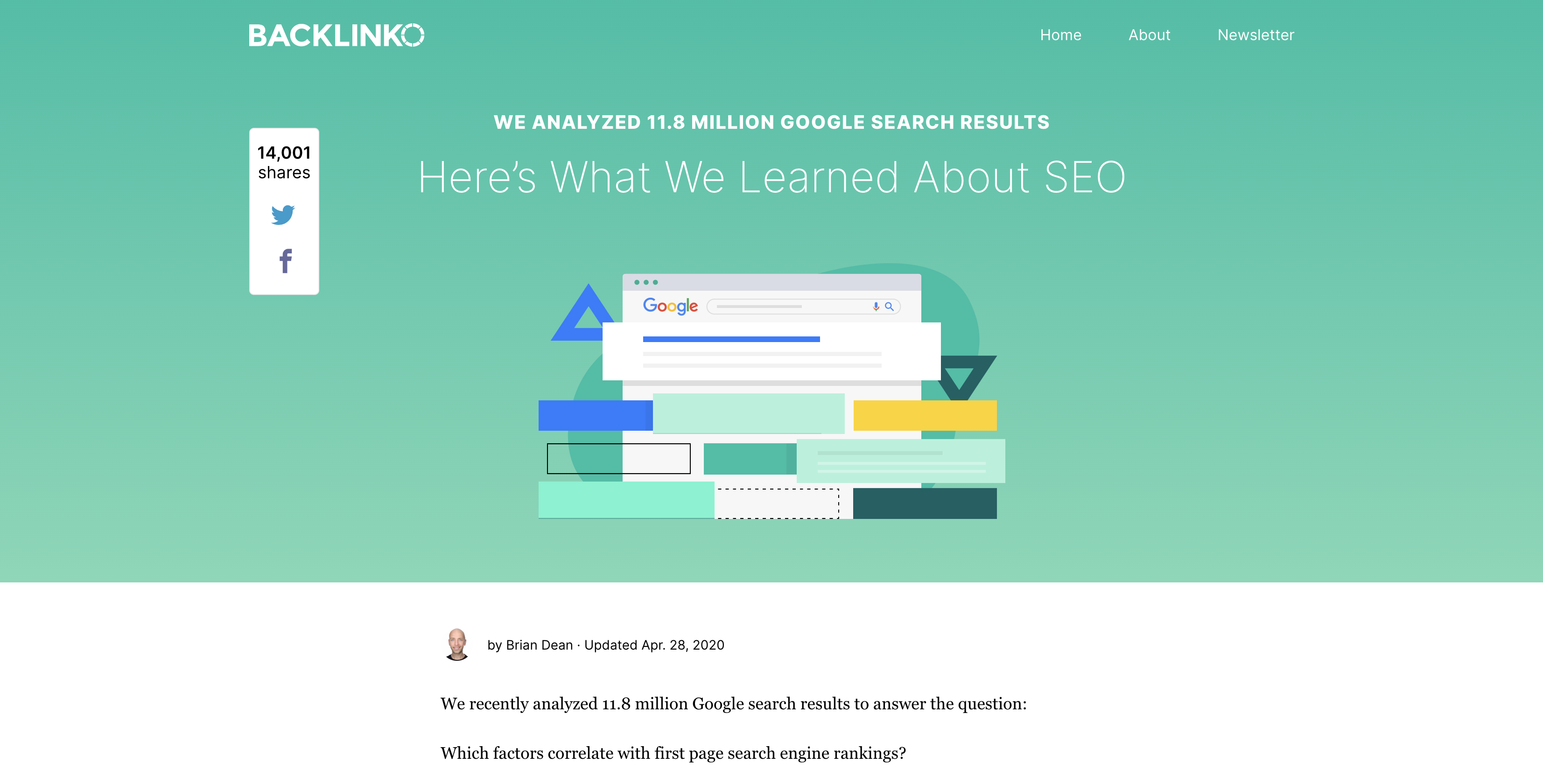 It's clear that pieces like this get people talking. You can publish the findings of these studies either as blog posts, standalone assets, or even as white papers. They're the perfect way to bring together multiple content formats.
White Papers / eBooks
It's important that you're layering different content formats into your wider strategy that work together to drive results. One of the hardest jobs that a B2B marketer has is getting buy-in from a whole team, not just a single individual.
Perhaps the B2B brand who has really mastered the art of using white papers to fill up their funnel is HubSpot. Their ' a beginner's guide to social media' is the perfect way to engage a company looking to get started on social for the first time and give them a wealth of actionable ideas.

Videos
In many ways, you can film a video that's of a high enough quality to host on YouTube and use on social media with nothing more than a smartphone (or with a little bit of a budget, you can massively improve your set up and quality).
But what should you create video content around? The opportunities are endless but just as with other content formats, it pays to put together a solid strategy. You can read how to do this in our guide on " How to Develop a Video Marketing Strategy That Drives Business."
The power of video is that you can use it across so many different channels, including optimizing natively for YouTube to reach new audiences, as well as on LinkedIn and other social platforms. Don't discount the power of a solid video strategy as a B2B brand.
Webinars
While you could perhaps consider webinars to fall under your video strategy, these can also be seen as a separate content format. When it comes to putting together a webinar strategy, one of the key benefits is that "most webinars are used to educate an audience about a particular topic or industry."
B2B Content Marketing Tactics That Actually Work
It's one thing creating B2B content, but if no one knows that it exists, you'll be disappointed with the end results. Having a solid promotion strategy is extremely important. The good news is that there is a wealth of channels that can help you to get your content seen.
Leverage LinkedIn
As a B2B marketer, you cannot ignore LinkedIn. LinkedIn has 310 million active monthly users, with 167 million of these in the U.S. alone. Interestingly, 90 million LinkedIn users are senior-level influencers and 63 million are in decision-making positions, per Omnicore.
Facebook, Twitter, and Other Social Platforms
Facebook, Twitter and other social media platforms have solid audiences for you to use to promote your content. In this guide, How to Create a B2B Social Media Strategy (Without Being Boring), you can learn how to leverage social to help you to stand out on the platform.
Paid Promotion
When we think of content marketing, we often think of it solely as an organic marketing channel. But by doing this, you could be missing out on opportunities to amplify your content to new audiences.
One tactic to consider is to leverage paid promotion across LinkedIn Ads, Facebook Ads, Twitter Ads, and YouTube. You can even use platforms such as Reddit to place content in front of your target audience to take advantage of the targeting options available.
Email Marketing
We've already discussed newsletters as a solid B2B content marketing format, but when it comes to using email as a promotion tactic, you need to build up your email list to have a database of people to send to.
When content ranks on search engines for core queries, it can send targeted traffic that could turn into a prospect. That's why it's important that every piece of content is created with the purpose of driving organic traffic and that it ranks highly on SERPs.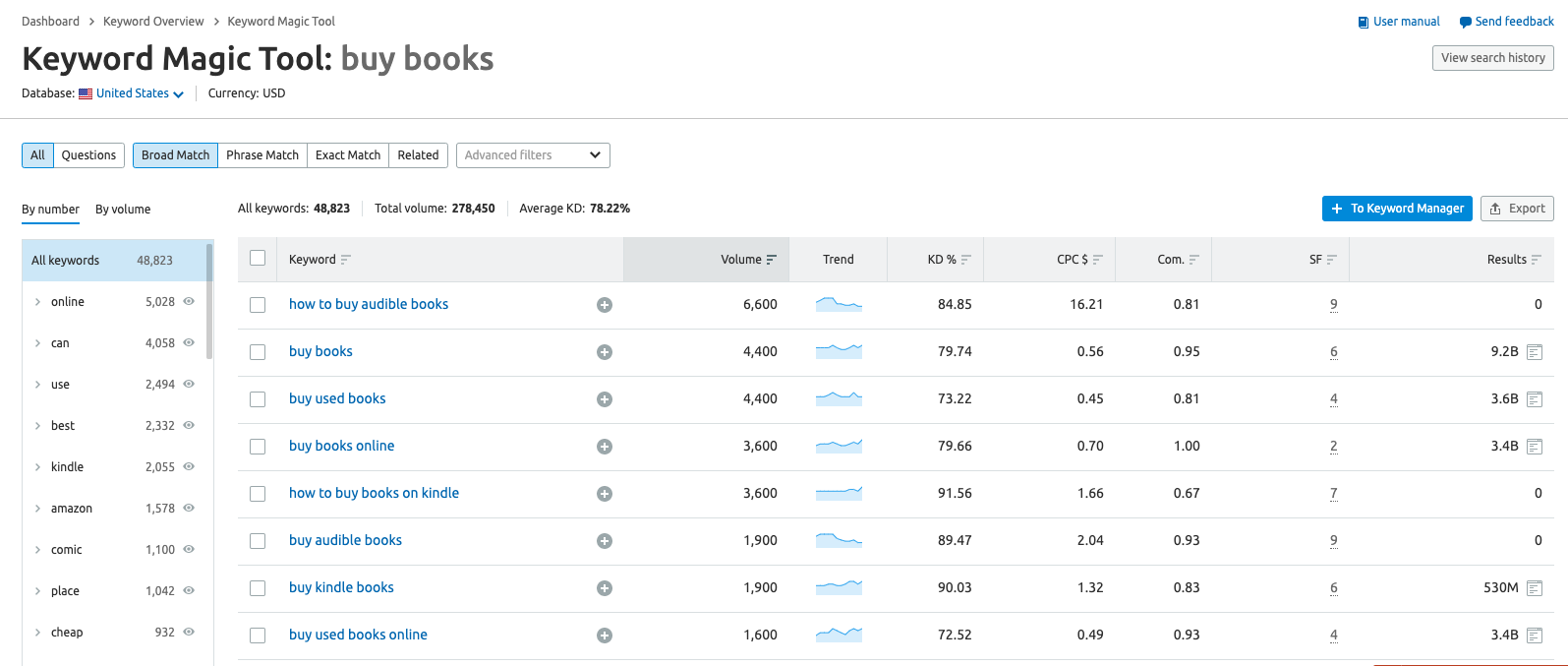 But to dive further into coming up with ideas for great content in the first place, use the Content Marketing Platform. Enter a topic and you'll be served some awesome insights into subtopics to consider working into your strategy.
And lastly, use the SEO Writing Assistant to make sure that your content follows best-practice recommendations. Putting together a strategy that layers content at different stages of the funnel, and performs organically, can accelerate your growth.
Reddit
If you're not using Reddit to promote your B2B marketing content, you could be missing out on a huge opportunity to directly engage with. Our guide to Reddit SEO gives a great insight into how you can build a solid strategy that leverages the platform for success and will talk you step by step through a proven process to make it work for your brand. It's another avenue for amplifying your content, and one that many marketers still haven't latched onto.
Partnerships and Collaborations
Collaborations and partnerships can help to amplify your content in a number of different ways. You should consider partnering up with supplementary, but not competing, businesses to:
The benefit here is that both parties win by being introduced to the other one's audience, and there's usually double the promotion efforts, too. Think about who it might make sense to partner up with, reach out, and sell the benefits.
Take the time to understand how you can effectively develop a B2B content marketing strategy for potential and existing customers using different formats of content. A good content strategy integrates many of the different topics discussed, and then you'll stand out in the B2B content marketing space.
Study: 86% Of B2B Marketers Use Content Marketing, But Only 38% Believe They're Good At It
According to the Content Marketing Institute's latest survey to determine where B2B marketers stand when it comes to their content marketing efforts, 86 percent of respondents said they use content marketing, but only 38 percent believe they are effective at it.
The Content Marketing Institute teamed up with MarketingProfs and BrightCover to poll more than 1,800 marketers on a wide range of content marketing topics — including tactics, benchmarks, distribution channels and budgets.
The report included more than 25 graphs, charting everything from the number of organizations that have a content marketing strategy in place, to what distribution channels are being used, and which metrics are being tracked.
How Effective Is Your Organization's Use of Content Marketing
The Content Marketing Institute reports 70 percent of B2B marketers are generating more content than they did a year ago, with 42 percent of respondents claiming they currently publish new content daily or multiple times a week.
Thirty-five percent of the respondents said they're organization has a documented content marketing strategy, and 47 percent reported having a dedicated content marketing group that either functioned independently, or worked horizontally across the organization silos.
When it comes to tracking their content marketing results, the majority (33%) of respondents rated their efforts as "Neutral," with 16 percent claiming to be "Successful," and five percent saying they were "Very Successful" at tracking content marketing ROI.
Sources:
https://martech.org/why-we-care-about-b2b-marketing-a-guide-for-marketers/
https://rockcontent.com/blog/content-marketing-statistics/
https://www.semrush.com/blog/b2b-content-marketing/
https://martech.org/study-21-marketers-tracking-content-marketing-results/