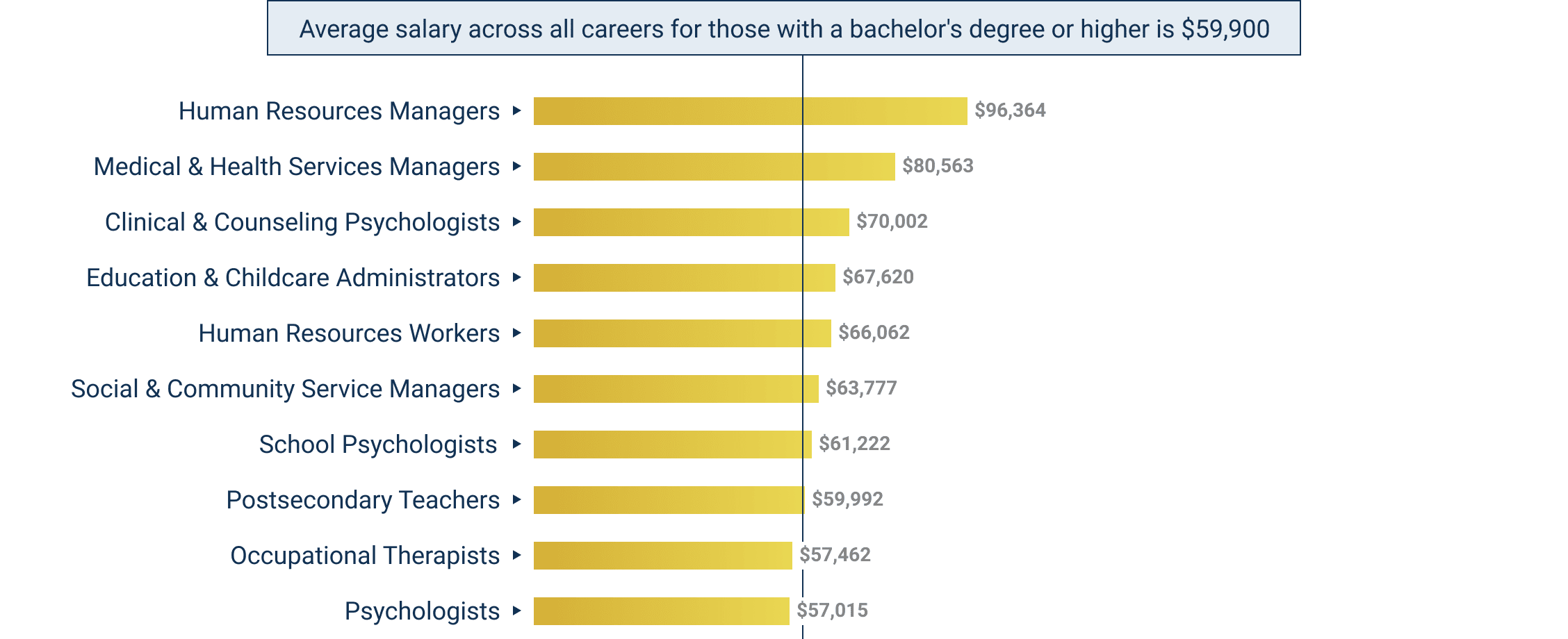 Careers in Psychology
What can I do with a degree in psychology?
The Psychology Department sponsors several activities each year for students wishing to learn more about career opportunities.
The field of psychology encompasses research and practice; through research we learn fundamental things about human and animal behavior, through practice that knowledge is applied in helping to solve human problems.
In each of the sub-fields, there are psychologists who work primarily as researchers, others who work primarily as practitioners, and many who do both (scientist-practitioners). Indeed, one of psychology's most unique and important characteristics is its coupling of science and practice, which stimulates continual advancement of both.
These range from short-term crises, such as difficulties resulting from adolescent rebellion, to more severe, chronic conditions such as schizophrenia. Some clinical psychologists treat specific problems exclusively, such as phobias or clinical depression.
Counseling psychologists help people to accommodate to change or to make changes in their lifestyle. For example, they provide vocational and career assessment and guidance or help someone come to terms with the death of a loved one.
Until recently, the primary focus was on childhood and adolescence, the most formative years. But as life expectancy in this country approaches 80 years, developmental psychologists are becoming increasingly interested in aging, especially in researching and developing ways to help elderly people stay as independent as possible.
They consider a variety of factors, such as human abilities, student motivation, and the effect on the classroom of the diversity of race, ethnicity, and culture that makes up America.
What arrangement of an assembly line makes production most efficient? What is a reasonable workload? Most engineering psychologists work in industry, but some are employed by the government, particularly the Department of Defense. They are often known as human factors specialists.
They can, for example, help a judge decide which parent should have custody of a child or evaluate a defendant's mental competence to stand trial. Some forensic psychologists are trained in both psychology and the law.
They identify the kinds of medical treatment people seek and get; how patients handle illness; why some people don't follow medical advice; and the most effective ways to control pain or to change poor health habits.
They also develop health care strategies that foster emotional and physical well-being. Psychologists team up with medical personnel in private practice and in hospitals to provide patients with complete health care.
Industrial/organizational psychologists apply psychological principles and research methods to the work place in the interest of improving productivity and the quality of work life.
Many serve as human resources specialists, helping organizations with staffing, training, and employee development and management in such areas as strategic planning, quality management, and coping with organizational change.
For example, neuropsychologists may study the way the brain creates and stores memories, or how various diseases and injuries of the brain affect emotion, perception, and behavior.
Rehabilitation psychologists work with stroke and accident victims, people with mental retardation, and those with developmental disabilities caused by such conditions as cerebral palsy, epilepsy, and autism.
They help clients adapt to their situation, frequently working with other health care professionals. They deal with issues of personal adjustment, interpersonal relations, the work world, and pain management.
School psychologists work directly with public and private schools. They assess and counsel students, consult with parents and school staff, and conduct behavioral intervention when appropriate. Some school districts employ psychologists full time.
Social psychologists study how a person's mental life and behavior is shaped by interactions with other people. They are interested in all aspects of interpersonal relationships, including both individual and group influences, and seek ways to improve such interactions.
Sports psychologists help athletes refine their focus on competition goals, become more motivated, and learn to deal with the anxiety and fear of failure that often accompany competition. The field is growing as sports of all kinds become more and more competitive and attract younger children than ever.
As a liberal arts and sciences student, the psychology major develops competence in written and oral communication, interpersonal skills, and abilities for problem-solving and critical thinking.
Popular job websites
All / Psychology related jobs
Mental Health and Healthcare related
Education and young people
Government, Social Care, Community & Charity
Commercial – HR, Marketing & related
Research & related
University & Academic related jobs (inc research assistant roles)
Graduate schemes enable you to work and train in a large organisation, usually between one to three years, with a view to progressing into a senior role over the long term. Many allow you to experience different placements within the organisation for you decide what roles you are most suited to. Many of these schemes are open to students and graduates of any degree discipline. See also our page on Graduate Schemes.
Social Work & related
Charity Sector
Education & Teaching
Criminal Justice
Health, Government & Social Care
Source:
https://www.cabrini.edu/about/departments/academic-departments/school-of-arts-and-sciences/psychology/careers-in-psychology
https://www.careers.manchester.ac.uk/whichcareer/health/optionspsych/
https://www.onlineu.com/careers/psychology